SOUNDPROOF A CEILING
To soundproof a ceiling in properties built before 2003 will be worthwhile whereas houses and flats built since then should already be effectively sound insulated against normal noise problems experienced from neighbours. However, older flats can experience noise through their ceilings from above and this article will help you with the necessary soundproofing required to soundproof your ceiling.
Easiest Solution
If you want the minimum of disruption then our thin ceiling soundproofing solution is for you but you will have to appreciate, this system, although effective, will not give you the best reduction in noise. For this we are assuming you have the usual timber suspended ceiling and you will have to screw additional layers of acoustic plasterboard to the ceiling with SoundBlocker Membrane sandwiched between each layer. The more layers you have the more efficient the ceiling soundproofing will be.
Best Solution
If removal of your existing ceiling is not desired but you can afford to lower the ceiling then an independent set of new suitably sized ceiling joists can be installed beneath and not touching the existing ceiling and supported from wall mounted hangers. Note. This system is only suitable for maximum spans of 5 metres. Install between the joists 100mm of AMW 100 acoustic mineral wool then screw across the underside of the joists Resilient Bars at 400mm centres. To the bars two layers of acoustic plasterboard are screwed with SoundBlocker Membrane sandwiched between them.
Best Solution if Ceiling Height is Restricted
For this solution, assuming again that the ceiling is timber joist supported, is removal of the existing ceiling to expose the joists. Infil between the joists with 100mm of acoustic mineral wool and secure with chicken wire or glue to the underside of the floor above with our special aerosol contact adhesive. Now we are back to the resilient bar system so finish of soundproofing the ceiling with resilient bars, Acoustic Plasterboard and acoustic membrane as detailed above.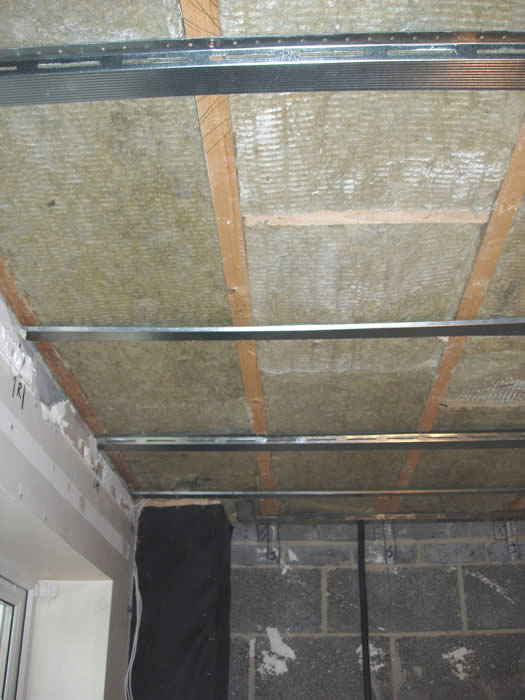 All of the above solutions to soundproof a ceiling can be installed by a competent person used to DIY projects. Alternatively, the soundproofing can be installed by any second fix tradesman. More details on the sound insulation required to soundproof a ceiling can be seen below.

Acoustic Mineral Wool has been developed to give the maximum amount of sound absorption and is totally non-flammable. It is produced using sustainable sources and manufactured using environmentally friendly binders. This is a better product than loft insulation or higher density mineral wool slabs for sound absorption within cavities and is a popular choice for as part of any ceiling soundproofing system.

SoundBlocker Quilt is a superior alternative to Acoustic Mineral Wool and is up to four times more efficient and is almost half the thickness. If you are looking for a better degree of sound insulation through a ceiling then SoundBlocker Quilt is the ideal acoustic infil.

Resilient Bars are thin flexible steel sections designed to create a flexible link between plasterboard and the timber structure. This flexibility helps absorb structure borne sound and increases the efficiency of any soundproofed ceiling.
Acoustic Plasterboard is a higher than normal density board and should not be confused with the usual wallboard type plasterboard. Although all plasterboard has a comparatively high mass, acoustic plasterboard is produced with much higher mass and helps soundproof any ceiling.

SoundBlocker Membrane is a lighter soundproofing mat ideal for use on ceilings. The mat is cut to the size of a sheet of plasterboard then glued to the second layer to be fixed. It is then an easy matter to screw the soundproofed second layer to the ceiling. SoundBlocker Membrane is a mineral loaded sound barrier mat that when used as a de-coupler between layers of plasterboard, significantly increases the sound blocking properties of the structure and should always be used when soundproofing a ceiling.