Double Stud Wall Soundproofing System using SoundBlocker Quilt Infill

Product Details
Size:  Supplied on a roll, 6m x 600mm or 6m x 1200mm
Double stud soundproofing system for separating walls using acoustic plasterboard and soundblocker quilt to meet part E standards and available from
Sound Service (Oxford) Ltd.
OVERVIEW
How to soundproof a double stud separating wall to meet Part E of the Building Regulations for constructing soundproofed double stud walls with our acoustic plasterboard and SoundBlocker Quilt.  The best solution when constructing llightweight party walls that are properly soundproofed against normal everyday noise from neighbours.
Benefits
220mm overall finished wall width
70%+  of recycled products in each roll of quilt
52mm thick once unrolled and uncompressed
High acoustic performance
Lightweight at 2.1Kg/m²
DESCRIPTION
SoundBlocker Quilt Plus Sound Reduction Performance
RwdB
RwdB + Ctr
62
52
Part E Acoustic Requirement
New Build
Refurbishment
DnT,w + Ctr dB
DnT,w + Ctr dB
45
43
Components and Fixing Data:
1 sheet of 12.5mm Acoustic Plasterboard (screwed direct to stud)
1 sheet of 15mm Acoustic Plasterboard (offset and screwed through first layer to stud)
75mm x 50mm Timber Studs (at 600mm centres)
52mm SoundBlocker Quilt Plus (cavity infill)
20mm Clear space between studs
75mm x 50mm Timber Studs (at 600mm centres)
2 x 12.5mm Plasterboard or ideally our Acoustic Plasterboard (screwed to studs the same as other side)
.
Technical Data
Application:
Separating Wall
Mass per Unit: 
46.4 kg / m2
Footprint Width:
220mm
Fire Protection:
60 Minutes
Certification:
Sound Reduction index to BS EN ISO 140-3: 1995. Rating according to BS EN ISO 717-1: 1997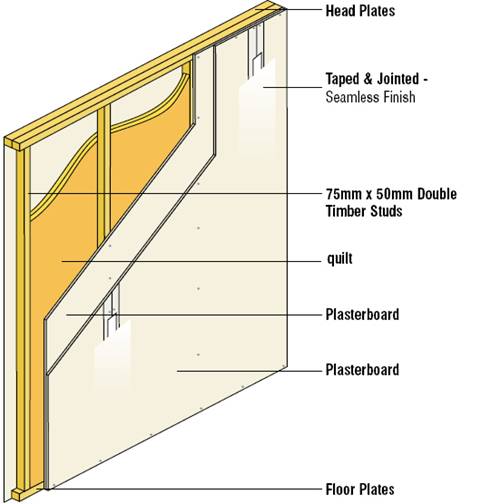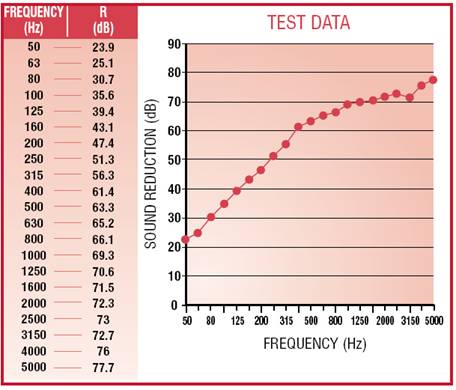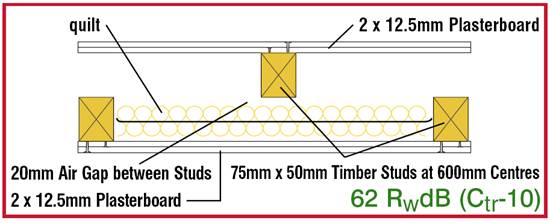 SOUNDBLOCKER QUILT MAKE-UP
Our SoundBlocker Quilt is produced using 25mm recycled sheep's wool on either side of our 2Kg/m2  SoundBlocker Membrane.  This combination gives the product enhanced sound absorbing and sound blocking performance and far better than any other normal mineral wool alternatives creating a far better, soundproofed partition wall.
Because it is up to 4 times more efficient than normal cavity infills due to its unique sound barrier layer sandwiched within the product a superior, soundproofed stud wall can be constructed.
Using this SoundBlocker Quilt system will exceed the requirements of the  Part E Resistance to the Passage of Sound document making it the sensible choice for both new build stud walls and conversion of existing walls in flats.
SoundBlocker Quilt can up rate a normal partition by up to 16dB!

A Greener Solution.
The sound absorbing element of this product is 60% produced using recycled sheep's wool combined with other recycled and recyclable materials.  So SoundBlocker Quilt has got to be one of the most environmentally friendly acoustic insulation materials used for infilling the cavities of stud walls.   This product does not use for the production or finished product CFC's, HCFC's or any gases that could otherwise damge the environment.
Size: 6m x 0.6m or 6m x 1.2m
Coverage: 3.6m² or 7.2m²

(R Value): 1.25 m2K/W.