How to Soundproof a Pump

Because pumps and compressors are often noisy an effective soundproofing solution is often required to suppress the noise emitted from them. Pump noise is usually a nuisance because they are sitting on comparatively lightweight structures. The best way to soundproof a pump, regardless of size, is to totally enclose it within a soundproofed enclosure. For best results the enclosure should be as large as possible to allow less heat build up and also to be more effective at reducing the noise output from reaching other areas. We will talk more about the soundproofed enclosure later in this article but first we must discuss acoustically isolating the pump to reduce structure borne sound being transmitted from where it is mounted.
To do this the pump, or compressor, must be isolated by mounting it on a resilient anti-vibration pad that in turn is fixed to a heavy base (usually a concrete slab). The heavy base is also isolated with an anti-vibration mat as detailed in the drawing below.

All of these layers are glued using our special aerosol adhesive. A patio slab can be used for smaller pumps and the pump itself can be fixed to ply or MDF that is glued to the top layer of anti-vibration pad. It is essential the resiliently mounted base is securely fixed where it is to be mounted. Now we can talk about the acoustic enclosure.
18mm MDF is best for this due to its high mass that will act as a sound barrier. As mentioned earlier, make this as large as possible to reduce heat build up and line the inside with our 33mm thick SA25FF/B/6 sound absorbing foam to reduce the airborne noise from the pump. If the acoustic enclosure is for a pump, the pipes connecting to and from the pump must be flexible so if they are not already, then change them. Where the pipes penetrate the enclosure, ensure the holes are slightly larger so the pipes do not come into contact with the sides of the enclosure. These holes can be sealed with our flexible Acoustic Sealant once the pipes are in position.
Ventilation. If ventilation is required, the important thing is to construct a vent that does not allow a direct line of sight into the enclosure. This vent or baffle can be a simple affair as can be seen from the cross section drawing below and should be lined with the same sound absorber as used within the enclosure.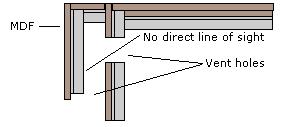 These instructions are designed to give the basic principles of what is required to sound proof noisy machinery or equipment and are not step-by-step instructions. Any DIY orientated person or anyone used to working with wood should be able to build and install an acoustic enclosure and also resiliently mount a pump or other equipment as detailed above.
An Acoustic Enclosure Kit is now available that includes all of the sound insulation and adhesive described above. All that is required in addition is the slab and MDF.