DESCRIPTION
This Acoustic Cradle system is designed to comply with Robust Detail E-FC-1 or E-FS-1 as well as being Part E compliant and can be used on both concrete or timber suspended floors when building or converting to a separating floor.
The cradles are produced with a 10mm resilient pad that decouples the floating floor and also absorbs impact noise and is designed to accept and securely hold timber floor battens.  Different thickness packers for use beneath the battens inside the cradle can also be used to create a perfectly level floor if being installed on an uneven base floor.
Sound transmission standards of ADE 2003 (amended 2004) are met with the correct installation of this system.
APPLICATIONS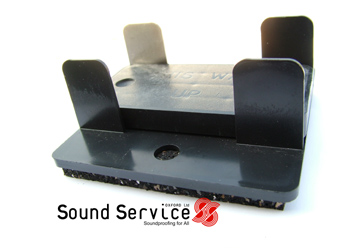 To be used over level or uneven concrete floors for conversions, refurbishments, change of use or new build.
PERFORMANCE
(As shown in the two construction illustrations below)
Floating floor meets the descriptive FFT2, within        Robust Details E-FC-1 or E-FS-1.
ABOVE:  Showing Acoustic Cradle with Plastic floor levelling spacer.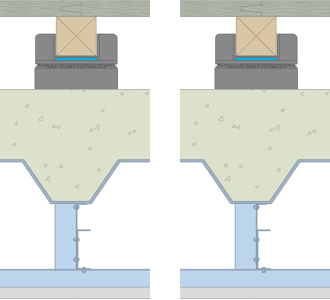 18mm tongue and grooved chipboard floor
Acoustic Cradle with 45mm x 45mm batten fitted
Elevating Block
130mm max. concrete base.  80mm minimum thickness fully supported on profiled steel deck
Gyproc MF type suspended ceiling with 75mm void and 10kg/m² plasterboard
---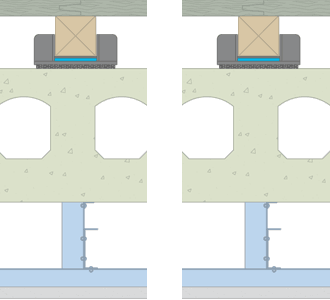 18mm tongue and groove chipboard floor
Acoustic Cradle with 45mm x 45mm batten fitted
200mm thick hollow core concrete plank min. 300kg/m² without screed
Gyproc MF type suspended ceiling with 75mm void and 10kg/m² plasterboard plasterboard