DESCRIPTION.
Application 
They are ideal for DIY installation for people wanting to create their own recording or practice studio and even in mixing rooms as well as a wide variety of other potential uses to reduce resonance within a room.
Composition
Coresorption acoustic insulation boards are manufactured from non-flammable resin bonded glassfibre which is compressed to form unfaced 25mm thick panels.
The basic glass fibre insulation is compressed under heat and pressure from 100mm to form a 25mm thick board that will effectively absorb normal noise levels. This thinner compressed board will absorb the type of noise usually found in community halls, schools, village halls, reception areas and similar. If you are building a home recording studio this would also be a great product to help reduce reverberation. If the sound levels are greater than normal, a thicker sound insulation would be required and can be achieved by bonding two panels of Coresorption together using our Sta-Stuck aerosol contact adhesive to give 50mm. The panels are easy to cut and handle as required.
Standard nominal size: 1200 x 2700 x 25mm thick (other sizes available on request)
Approximate weight: 3 kg/m²
Natural colour: Yellow
Availability: Normally a stock item but check on availability as this is a popular and fast moving product.
Fire Resistance 
The Coresorption acoustic panels meet BS 476 Part 6 & 7, Class 1 and Class 0

Thermal Conductivity 
The Coresorption acoustic panels are also excellent thermal insulators having a k value = 0.037 w/m²k

Typical General Applications
Please contact our technical department for specific project applications.
Sound absorption ceiling or wall lining to reduce reverberation time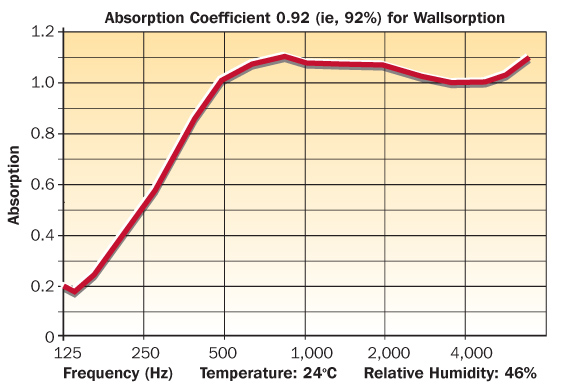 Sound absorption performance :-
| | | | | | | | | |
| --- | --- | --- | --- | --- | --- | --- | --- | --- |
| Absorption coefficient (Hz) | 125 | 250 | 500 | 1,000 | 2,000 | 4,000 | NRC | Class |
| With 100mm air gap | 0.38 | 0.92 | 0.96 | 0.93 | 0.99 | 0.97 | 0.95 | A |