ECHOSORPTION PLUS Technical Specifications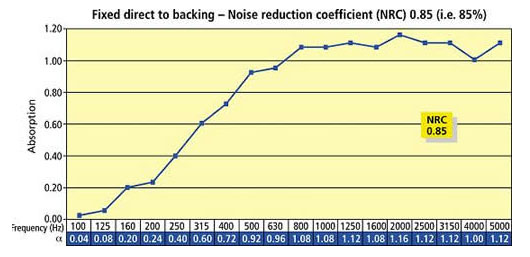 The special construction of Echosorption panels gives a very high sound absorption rating 0.85 (i.e. 85%) with minimum headroom height loss (only 30mm).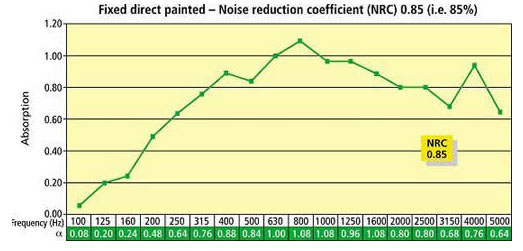 The NRC of a standard panel is 0.85 (i.e. 85%) and an emulsion painted surface panel is also 0.85 (i.e. 85%). The only difference is that the thin coating of emulsion paint on the surface acts as a membrane absorber leading to higher absorption at the lower frequencies and a drop off at the higher frequencies. However the overall NRC stays the same at 0.85 (i.e. 85%).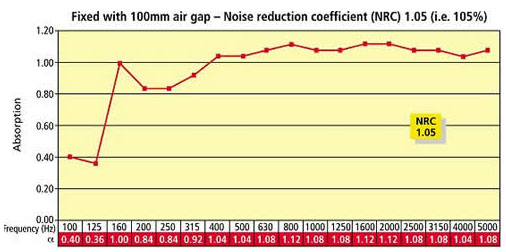 This fixing method results in very high sound absorption especially at low frequencies which is often very difficult to achieve. This product achieves an absorption coefficient of 1.00 (i.e. 100%) even as low as 160 Hz. This provides a very cost effective bass absorber for studios and music rooms at minimal cost. The air gap can be created by using 100mm thick timber battens behind the panels or a similar method.
.
Properties Values
Dimensions:
nom. 1200 x 600 x 30mm
Colour:
White
Weight:
nom. 3kg/m2 +/- 3mm
Light Efficiency:
78% diffuse light reflectance
Flammability:
BS476 – Class 1
BS476 – Class 0
CUTTING – The panels are easily cut to size with a long sharp blade. Light fittings and other services are simply cut around. This avoids the necessity of unnecessary removal and refitting. Clean cotton gloves should be worn when handling the tiles to avoid soiling. Care must be taken when cutting the edges as these are reinforced to create a more durable product.
Echosorption Plus is simply stuck onto walls and ceilings with a good quality contact adhesive. We recommend that the adhesive is stored and applied at normal room temperatures when at all possible. Before application of the panels, ensure there are no holes or splits in the backing. If any are found, seal them before applying any adhesive.
Attention must be drawn to ensure there is no cold bridging on the substrate and that it is a 'warm' surface. Any cold bridging that can encourage damp may affect the cohesion of the product.
Due to climatic conditions, dimensional tolerance may vary by +/- 4mm. To minimise this, store the panels for 48 hours in the area they are to be used at normal room temperature before installation.
Installation is best made onto unpainted surfaces whenever possible.