Product Details
Size:  Rolls in various widths, length and thicknesses from 1mm to 123mm.
OVERVIEW
Expanding Sealing Foam is an extremely versatile self-adhesive acoustic foam tape that expands to completely fill gaps and voids.  It is particularly useful applied around replacement window and door frames during installation.
Key Benefits
Long lasting
Self adhesive for easy application
Absorbs noise
Draughtproof
Water resistant
Available in choice of widths and thicknesses
DESCRIPTION.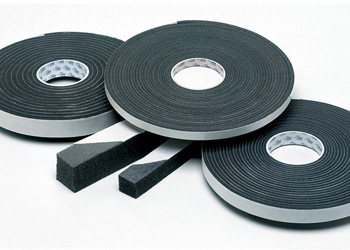 A polyurethane, cellular foam impregnated with flame retardent properties.  The expanding foam tape is supplied with one side self-adhesive for initial positioning.  It is available in a range of widths and thicknesses and so can be supplied to suit almost any gap sealing application.
The product is most useful when used to seal around door and window frames but can be used anywhere when a flexible, acoustic, waterproof and thermally efficient foam sealer is required.
HOW IT WORKS
The Expanding Foam Sealing Tape is exactly what the name suggests.  It is supplied compressed on a roll that slowly expands after it has been applied.  This gives time for the frame to be installed before the foam totally expands effectively sealing the space between the frame and the wall.
APPLICATIONS
– Weather resistant facade roof joint
– Perimeter seals for windows and doors
– Timber frame buildings
– Side/end laps on roofing sheets
– Joints for portable or sectional buildings
– Abutment seals for conservatories
– Acoustic and thermal seal
– Ductwork
– Installation of roof lights or solar panels
– Caravan and mobile home manufacture