Floating Floor System Technical Specification
for R10 When used on a timber suspended floor
NEED TO MEET THE PART E BUILDING REGS?
If used with our Studio Ceiling System on the ceiling below, the Floating Floor System should pass the Part E Building regulations for house conversion and new builds. The data below is based on a customer installing both systems.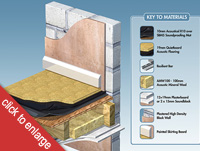 Incorporating the latest changes to the Approved Document E, the minimum and maximum airborne noise and impact sound insulation requirement for separating floors are as follows:
Properties Values
| | | |
| --- | --- | --- |
|   | Airborne Sound Reduction DnTw,w+C;tr | Impact Sound Level LnTw |
| Conversion | 43dB or greater | 64dB or less |
| New Build | 45dB or greater | 62dB or less |
To comply with the requirements of Document E, R10 sound insulated separating floors have been tested in accordance with BSEN ISO 717-1997 and BSEN ISO 717:1997. Substituting the 25mm mineral wool floating layer normally specified with a more stable and efficient recycled rubber resilient layer. 10mm thick sound absorbing Acousticel R10 is installed onto timber suspended floors as detailed above. Note: Existing or new square edged timber floors should be overlaid with our SBM5 before installing the R10 and the ceiling should be supported with our 16mm deep Resilient Bars.
With a floating layer of 19mm thick QUIETBOARD cement impregnated t&g chipboard -placed on top of the R10 acoustic insulation as shown above, the following site test result was recorded:
. Site test result
Airborne DnT,w+Ctr
48dB
 
Impact LnTw
52dB
 
With R10 and QuietBoard installed on top of a base floor of QuietBoard, the following site test result was recorded:
Airborne DnT,w+Ctr
55dB
Impact LnTw
55dB
WHICH MEETS THE NEW CHANGE OF USE, CONVERSION AND NEW BUILD REQUIREMENTS NOTE! Size and spacing of the timber joists will affect the overall sound insulating performance. If the joists differ from those on the floor that was tested, please contact us for further advice.
NOTE: Failure to follow the Application Instructions to the letter may result in a failed test!
See all our other test certificates below.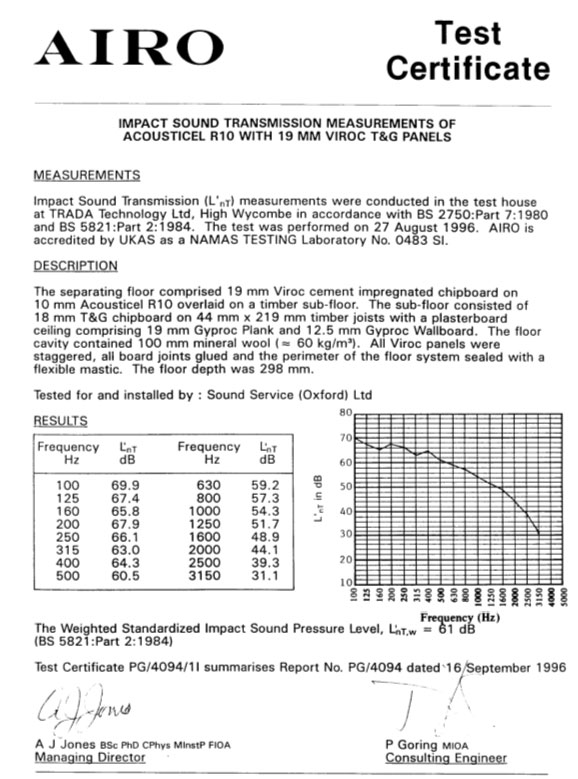 Quietboard Flooring
. General Physical Data
| | |
| --- | --- |
| Description: | Tongued & Grooved Acoustic Floor Panel |
| Composition: | Cement Impregnated Chipboard (75 % of this product is made from recycled wood pulp) |
| Standard Size: | 1200 x 600mm or 4ft x 2ft (cover size) |
| Nominal Thicknesses: | 18mm (tongued and grooved) |
| Mass: | Min. 1359kg/m3 (25kg/m2) |
| Flammability: | Class '0' non-flammable |
Click here  QUIETBOARD HEALTH & SAFETY PDF
Transport
QuietBoard is usually delivered secured in plastic wrapped and edge protected pallets. When loose boards are transported they must be laid flat and fully protected with a waterproof sheet. When manually moving, QuietBoard must be carried in a vertical position. Storage QuietBoard should be stored flat on levelled supports at 800mm centres. It must never be stored on edge or upright. If outside, a protective plastic sheet must be secured to protect from weather
Storage
QuietBoard should be stored flat on levelled supports at 800mm centres. It must never be stored on edge or upright. If outside, a protective plastic sheet must be secured to protect from weather
Conditioning
QuietBoard has an ex-works moisture content of 9% =/- 3% and is in equilibrium when the temperature is 20oC with a relative air humidity of 50-60% QuietBoard adapts to the ambient humidity level, therefore, to adjust to its working conditions it should be allowed to acclimatise for 24-48 hours prior to fixing.
Product Hazard Information – Health & Safety Statement
FIRE: Class '0' to BS476
COMPOSITION: Portland Cement, wood and water
TOXIC GAS: Nil
HEALTH: Skin contact – classified As non-aggressive dust. Non-toxic chemical Eye contact – Normal neutralizing agents Treatment for removing Foreign bodies from eyes.
BASE: Alkaline pH12 Inhalation – Process dust is non-aggressive but Protection recommended when processing material.
Soundproofing mat
General Physical Data
Colour:
Dark Grey to black
Supply Form:
Available in sheet form
Sheet Size:
nom. 1800 x 1200mm (6ft x 4ft)
Nominal Thickness:
2mm +/- 0.6mm
Piece Density:
5kg/m2 +/- 10%
Service Temperatures – (Securely fixed) <90oC for extended periods <120oC for short periods>
Flammability:
FMVSS 302 self-extinguishing
Shelf Life:
Indefinitely in cool, dark storage conditions
Special Spray Adhesive
See the Health & Safety Data sheet  HERE
Acoustic Sealant
Technical Data
. Properties Values
Application temperature
+5°C to +40°C
 
Service temperature
-10°C to +70°C
 
Skinning time @ 20°C/65%RH
5 minutes
 
Cure rate
Time to full cure is dependent on sealant depth, ambient temperature and humidity.
Chemical resistance
Fair resistance to most alkalis and dilute acids; poor resistance to hydrocarbon solvents.
UV resistance
Not applicable
Service life
15 years +
Movement accommodation
Butt joints (movement in tension and compression): 10% Lap joints (movement in shear): 20%
Colours
White.
Equipment
Mastic gun or Click n Seal gun
Our Acoustic Sealant is a one-part Fire Retardant Water-based Acrylic Sealant. It exhibits good adhesion to a wide variety of common building substrates without the need for a primer. Paintable with emulsion paint three hours after application. Allow 12 hours before overpainting with gloss paints.
When subject to flame our sealant will intumesce (expand and char), thus blocking the passage of fire and smoke.
Specification Compliances
BS EN ISO 11600 F 7.5P
BS 476 Part 20: 1987
Warres Report No: 23282, 9th March 1995
Warres Report No: 116997, 20th February 2001
Warres Report No: 119344, 12th July 2001
Warres Report No: 123325/A, 27th March 2002
Application Instructions
Joint preparation
The joint surfaces must be clean, dry and free from all contamination. The surfaces should be degreased using a suitable cleaner.
Joint Backing
Where applicable, appropriate joint filler e.g. our AMW or closed cell polyethylene foam, should be used to provide the correct joint depth (see chart under Technical Data for fire integrity and insulation achieved).
Application
Our sealant is supplied in cartridges and can be applied into the joint using a Caulking Gun. All joint preparation, priming, and sealant application should be carried out in accordance with BS8000 Part 16, the British Standard for the sealing of joints in buildings using sealants.
Joint Size suitability
Joint width
Minimum 6mm
Maximum 20mm (single application)
Joint Depth
Minimum 10mm on porous substrates
Minimum 10mm on non-porous substrates
Maximum 20mm
Width :Depth ratio (within above min/max restrictions)
Contact Technical Services. In general, joints should be as narrow as possible to prevent passage of fire.
Storage Life
12 months in original unopened package stored in a cool, dry place out of direct sunlight.
Health & Safety for Acoustic sealant
Avoid prolonged contact with the skin. If sealant cones into contact the eyes, flush with copious volumes of cold water and obtain medical attention. For further information consult Product Safety Data Sheet.

*Test incorporates seals and backing material on both faces of the construction.
Packaging: Polyethylene nozzles are included with each tube. Important: The information in this leaflet is given in good faith and based on results gained from experience and tests. However, all recommendations or suggestions are made without guarantee since the conditions of use are beyond our control. Goods are supplied subject to the Company's terms and conditions of sales.