Thermafleece Installation Instructions
Download this as a PDF file HERE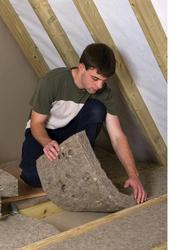 Thermafleece is harmless and can be installed without gloves or protective clothing, although we do recommend that you wear a dust mask in an enclosed space like a loft. It is not irritating to the skin, eyes or respiratory tract and causes no discomfort to site workers during installation. Any fibres which happen to reach the living space will present no hazard to health.
To retain the benefits of water vapour, absorption and release, Thermafleece may be used in conjunction with a vapour permeable underlay. Protect the insulation from prolonged exposure to sunlight when unpacked and avoid wetting for extended periods, store under cover and clear of the ground.
Cutting Tips
For accurate cutting, tightly compress or clamp the insulation between two pieces of solid 15mm board. Overhang the fleece where you want to cut keeping the two board edges aligned. Saw cut the edge using a sharp, scalloped edged knife and keep the blade firm and square against both board edges throughout. Trim any fine remaining fibres with large scissors or shears. Thermafleece can also be cut using a straight edge and a Stanley knife, or simply torn apart.