DESCRIPTION.
These are exceptional quality Wall SoundTrap panels for the discerning listener that will not cost the usual exorbitant prices. They are 2ft (610mm) by 4ft (1219mm) by 2" (50mm) and of exceptional quality absorption due to the high quality of the sound absorbing foam and anti-static, wear resistant acoustic linen fabric used for covering them. Mounted on a solid MDF backing board to give them rigidity enables them to be easily fixed to walls.
The fabric, like the foam is fire resistant to modern day furnishing standards and the fabric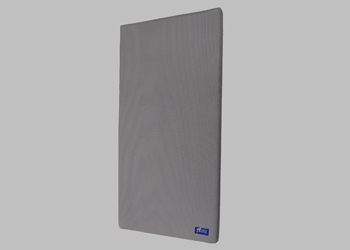 conforms to BS EN 1021-1 1994 and BS EN 1021-2 1994 fire resisting tests. The acoustic foam meets the requirements of Schedule 1, Part 1, of the Furniture and Furnishings (Fire) (Safety) Regulations, S.I. 1324 of 1988 (Amended 1989) and (Amended 1993).
The configuration of the high grade sound absorbing foam, the HDF and durable but great looking fabric combines a panel that if not the best then up among the best sound wave absorbing panel on the market. These combined with Corner SoundTrap Panels and you will have created a room that looks and sounds like you have never previously experienced. The absorption of the bass notes within the room will be much improved and the reverberation and reflections reduced to bring clarity to a room that before lacked precision and definition.
These SoundTrap panels will improve and reduce common problems such as room modes, long reverberation times, standing waves, reflections, low end build up and echo's. With absorption of 0.45 at 250 Hz these panels are performing in the same league as much more expensive systems and with the combination of the Corner SoundTrap Panels you will create a room that your peers will envy. Mid and high frequencies are opened and will substantially enhance your listening experience. The low end will be given the extra boost needed to bring transparency to the room, a room that will look and sound far better than before. Although these panels are not expensive; don't let that put you off. These panels will be the best investment you can make for your dedicated listening room leaving more available cash to use elsewhere.