Product Details
Size:  2.7m x 1.2m x 2.5cm 2700mm x 1200mm x 25mm
OVERVIEW
Decorative coloured fabric covered Class C type sound absorbing wall panels designed to reduce reverberation and the echo within a room or workspace and are particularly effective in school classrooms and halls, offices, studios, interview rooms and conference suites. Because they are a Class C type sound absorber they can also be used to satisfy Part E of the Building Regulations for the reduction of reverberated noise in common areas of multi-occupied buildings.
Key Benefits
Simple fitting to walls and easy to remove for cleaning.
Class 0 fireproof Option Available.
Significantly reduces echo and overall office sound.
Helps reduce sound leaving the room to other work areas.
Available in 20 recycled fabric colours.
TESTIMONIAL
"The acoustics are much improved now. The Wallsorption panels have certainly done the trick very well, just like you said they would."                                                     Adi Himpson, Communications Officer, Oxford e-Research Centre
DESCRIPTION.
Wallsorption acoustic panels effectively reduce reverberation noise levels in buildings such as lecture theatres, music rooms, offices, boardrooms, sports and community halls, classrooms, cinemas, interview rooms and many other applications. They transform a stark, echoing area into a warm quiet congenial work place. These panels are fabric covered and therefore decorate a room and solve acoustic problems in one operation. They are simple to install in three different configurations. For full installation details please our install guide above.
Wallsorption sound absorbing acoustic wall panels are a high specification system designed to effectively reduce reverberation noise levels and transform otherwise unuseable rooms due to an excessive amount of reverberated noise. Wallsorption will transform lecture theatres, community halls, open plan offices, conference suites, studios and interview rooms into more pleasant and workable environments. They are particularly suitable for use in school classrooms and halls to comply with the new BB93 requirements to make it easier for students and teachers to understand each other and for them to hear more clearly. Supplied fabric covered in a wide range of colour options, they are durable, fire resistant, visually pleasing and their sound absorbing qualities offer excellent acoustic performance and can solve a rooms noise problems in one easy operation. Please click above to see our Fabric colour chart.
The Wallsorption panels are finished in a high quality acoustically transparent fabric available in 20 standard colours. We are proud to say this fabric is recycled and is further testament to our commitment to the environment. Please view colour chart link above. If required, the panels can also be used for displaying posters as they easily take pins.
There are three standard versions of wallsorption panels.
● Type A: WALLSORPTION – Tee joint panel system.
● Type B: WALLSORPTION – Butt joint panel system.
● Type C: WALLSORPTION – The more popular shadow joint panel system.
See our install video here for Wallsorption.
TYPE A: TEE JOINT PANEL SYSTEM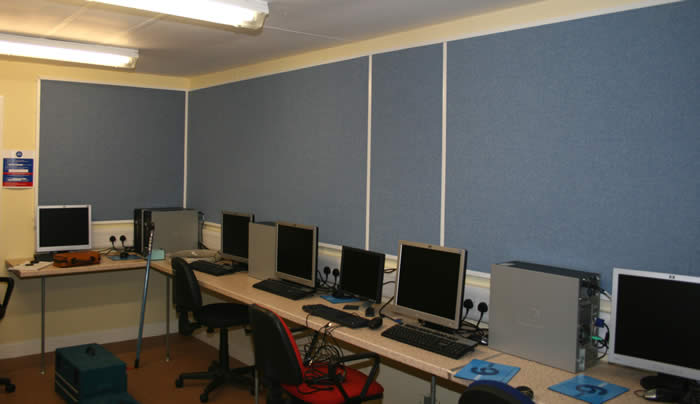 This is the most economical panel utilising white Upvc  fixing trims. The panels have cut edges on all four sides.  The UPVC sections serve two functions. One is to  decoratively mask the edges and the other is as structural  fixing sections. This system is the most flexible as panels  can easily be cut on site to suit wall dimensions.
TYPE B: BUTT JOINT PANEL SYSTEM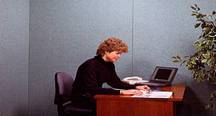 This eliminates the requirement of a tee joint section as  this panel has reinforced long edges and the fabric facing  is wrapped around the two long edges of the panel. This  results in a neat, crisp butt joint between the panels  without the need for finishing strips except for U Channels  at the top and bottom of the panels for fixing.
TYPE C: SHADOW JOINT PANEL SYSTEM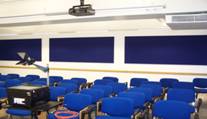 This panel has no visible fixing sections on any of the four  sides of the panel. The panel has reinforced edges on all  sides with the fabric bonded to the face, all four sides and  wrapped to the rear. This results in a beautiful individual  panel which can be used in single units or joined together to  other panels or with shadow gaps as a design feature and  can simply be glued directly to any wall using our Sta-Put  easy to use aerosol adhesive without the need for any finishing or fixing strips.
Now due to popular request, we can supply the Type C panels with Velcro fixings as shown in the photo on the right.  This enables easier fitting making them easier to remove when necessary.  Extra paired Velcro is also supplied with each panel for walls as shown in the photo on the left.  The panel is simply matched to the Velcro on the wall and the panel is fixed.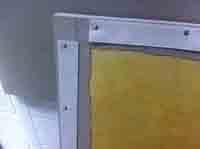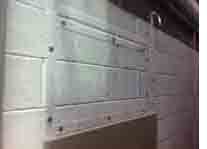 The Type C panels with the edges wrapped are also available in smaller sizes.  Go to Technical Specifications to view all available sizes.
We are now able to offer the 50mm Wallsorption as a Type C version to more effectively absorb sound at lower frequencies.
Note!  This product will be made up according to the size and colour required from our range.  Because this product is tailored to customers requirements, we cannot offer any refunds for its return.
As featured on www.buildingdesign.co.uk