WOODSORPTION Tech Spec & Safety Data
Hazards and Control
In sheet or processed form, MDF is non-classifiable under the COSHH regulations.
However, there may be handling hazards. COSHH Regulation 6 requires an assessment to be made (and normally recorded) of health risks associated with wood dust or formaldehyde together with any action needed to prevent or control those hazards.
Health & Safety
In sheet or processed form MDF does not present any health or safety risk. Contact with wood products can cause irritation effects but the most significant risks come from mishandling the material.
Very fine dust is produced when MDF is machined. Just like any other wood dust, this is a potentially hazardous substance and it must be controlled. There is no evidence that exposure produces health effects that are different in nature to those associated with exposure to similar levels of dust from other wood sources.
Dust from cutting operations can be controlled adequately by complying with the Control of Substances Hazardous to Health (COSHH) Regulations 2002. Under these regulations, PanelGuide (V2) Annex 2e9
wood dust has a Maximum Exposure Limit (MEL) of 5mg/m2, this is the relevant limit for
controlling exposure to MDF dust.
Exposure must be reduced as far as possible below this limit, usually with properly designed
and maintained dust extraction equipment fitted to woodworking machines. Extraction equipment is often not practicable or even available when using portable or hand-held tools, so wear a suitable dust mask (for example, Type FFP2 to BS EN 149). If possible, machine MDF in a well-ventilated place.
Formaldehyde in the workplace atmosphere has an MEL of 2 parts per million (ppm).
However, studies indicate that anyone machining MDF in typical situations is exposed to
levels of free Formaldehyde significantly below this.
Two formaldehyde classes (determined in accordance with BS EN 120, BS EN 717-1 and BS
EN 717-2) are specified in the "Harmonised Standard" (BS EN 13986) at a moisture content
of 6.5%. Based on BS EN 120, the limits are set at: Class E1 < 8mg/100g Class E2 > to < 30mg/100g
MDF manufactured in the UK and Ireland has Class E1 formaldehyde content.
Physical Properties
a) Climate
Like other wood-based panel products, MDF is hygroscopic and its dimensions change in response to a change in humidity. Typically a 1% change in moisture content increases or decreases the length and width by 0.4mm per metre run.
As a guide, MDF could be expected to attain the following moisture content under the
specific conditions.
   Relative Humidity at 20oC                                          Approximate Equilibrium
Moisture Content
30%                                                                  5%
65%                                                                  8%
85%                                                                  12%
When components are factory produced for installation on site it is essential that the site
conditions are suitable to receive the components, with wet trades completed and the
building dried out.
Panels with enhanced moisture resistance are not waterproof; the term "moisture resistant'"
applies to the adhesive binder which (within limits defined by BS EN 622-5 will not break
down in the presence of moisture). Physical wetting of all grades of MDF should be avoided.
b) Biological attack
MDF will not normally be attacked by wood-boring insects common in temperate climates,
but is susceptible to fungal attack under prolonged wet conditions.
c) Water Vapour Permeability
The value of the water vapour resistance factor (μ) for MDF varies from a value of 2 at a
density of 250kg/m3 to 20 at a density of 800kg/m3,when tested in accordance with BS EN
ISO 12572, using test conditions C (the wet cup method) Dry cup values vary from 5 at a
density of 250kg/m3 to 30 at a density of 800kg/m3. Values for various densities of
fibreboard are given in Table 9 of BS EN 13986.
d) Thermal Conductivity
The thermal conductivity (λ) of MDF varies from 0.05 W/mK for a panel density of 250kg/m3
to 0.14 W/mK for a panel density of 800kg/m3. Values for various densities of fibreboard can
be found in Table 11 of BS EN 13986.
e) Reaction to Fire
Under the new Euroclass system for characterising the reaction to fire performance of materials, an untreated MDF may be assumed to achieve a class D-s2, d0 (excepting floorings) or class DFL-s1 (when used as a flooring) without need for testing, provided that it has a minimum density of 600 kg/m3, a minimum thickness of 9mm and is used in real applications where it is fixed without an air gap behind, against class A1 or A2-s1, d0 products with minimum density 10 kg/m3, or at least class D-s2, d0 products with minimum density 400 kg/m3. If the manufactured product does not satisfy any of these minimum requirements or is used with an air gap behind, then it must be tested and classified according to BS EN 13501-1.
Storage and Handling
MDF should be stored flat and dry, off the ground, with all four edges flush. Storage in an enclosed building is preferable and external storage should be avoided whenever possible.
Stacking on edge should be avoided wherever possible. Panels should be stacked on a closeboarded
or slatted pallet, or if this is not possible on battens at no more than 600mm centres. The battens should all be of equal thickness and should be vertically aligned with any others in the same stack, in order to avoid distortion of the panels.
Panels should be protected by a waterproof covering during transport and the edges properly
covered. Edges should also be protected against damage by lashings or other banding, this is particularly important for panels with profiled edges e.g. tongued and grooved panels. It is particularly important that panels are protected from wetting during storage and construction. "Humid" panels can tolerate inflated humidity conditions such as can be found in kitchens and bathrooms but direct contact with water should be avoided with the unprotected panel. All panels should be installed at a moisture content as close as possible to that which they will attain in service, in order to minimise any movement problems.
Once on site, it is preferable for individual panels to be "stickered" before installation in order
to allow air to circulate and to allow the panels to attain a moisture content as close to their
final in-service moisture content as possible.
Working with MDF
Satisfactory results can be achieved using hand tools but quicker and more consistent results
can be achieved using either portable or fixed power tools. Tungsten carbide tipped (TCT) tools will give better cutting performance on power tools.
Where material routing and moulding is required, the cutter type, tool and material feed speed all affect the quality of finish, cutters must be kept sharp, as dull cutters will cause edges to 'bell'. Whilst all MDF generally machines well, the density profile will differ between brands and this may influence the quality of finish. MDF can be drilled using all types of wood working drill bits.
FIRE SAFETY
Woodsorption standard acoustic panels meet BS476 Class 3 fire rating. If special fire treatment is required, the real wood veneered panels can be treated after installation with a proprietary intumescent varnish so upgrading the panels to Class 1 or Class 0 surface spread of flame rating.
This product meets the following standards:
BS EN 622 Parts 1 & 5 – Fibreboard Specifications, Requirements for dry process boards This item achieves the Class A standard of <9 mg/100g for formaldehyde content.
BS 476 Part 7 – Large Scale surface spread of flame. Independently verified as achieving Class 3 by The Loss Prevention Council.
.
Properties Values
WEIGHT: Nominal panel weight: 10kg/m2
DIMENSIONAL TOLERANCES: +/- 5mm on both length and width. THICKNESS TOLERANCE +/- 0.2mm
DENSITY: 740 kg /m3
INTERNAL BOND: 0.80 n/mm2
STANDARD NOMINAL SIZES
Length (mm)
Width (mm)
2400
197/293/581
For overhead ceiling applications, 293mm width panels are recommended
MAINTENANCE
Woodsorption panels are easy to maintain. The panels can be cleaned with non-abrasive cleaners which are suitable for wood veneers.
FACE PATTERNS
There are two standard finishes for Woodsorption. One face pattern is made up of a series of slats and the other pattern is a series of perforated round holes. Other face patterns may be produced upon request. Each panel has a machined tongue down one long edge and a machined groove down the other long edge. Each end is square edged and unjointed.
Slatted Panels
These have longitudinal grooves, 3mm wide and machined along the length of each panel. The machined slots are in two versions: Version A has slots machined every 32mm resulting in each slat being 29mm wide Version B has slots machined every 16mm making every slat 13mm wide.
Round Holed Panels
These have circular holes machined over the face of the panel.
These round holed panels are available in two versions:
Version C has 6mm diameter holes
Version D has 3mm diameter holes

Round Holed Panels These have circular holes machined over the face of the panel. These round holed panels are available in two versions: Version C has 6mm diameter holes Version D has 3mm diameter holes The centre-to-distance between the holes is 16mm

ACOUSTIC PERFORMANCE
Woodsorption is an ideal sound absorbing panel with qualities that are pleasing to both the ear as well as the eye.
Woodsorption is also one of the most advanced and efficient sound absorbing products available today for reducing reverberant noise levels in many environments.  Panels are normally fixed onto 50mm battens.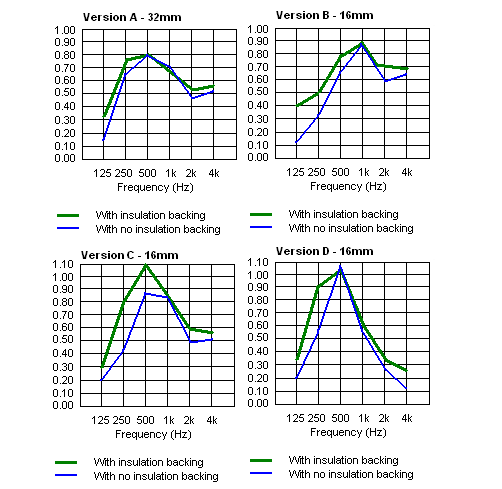 (Insulation tested above is 50mm thick, 50kg/m3 density. A small difference of +/- 10kg/m3 will not make any difference to the overall sound absorption).