DESCRIPTION.
These Corner SoundTrap Panels compliment our Wall SoundTrap Panels and can be supplied with matching coloured fabrics. Not to be confused with the cheaper Acoustic Corner Traps of ours, these superior high end Corner SoundTrap Panels are designed to effectively absorb the low frequencies as well as the mid to high.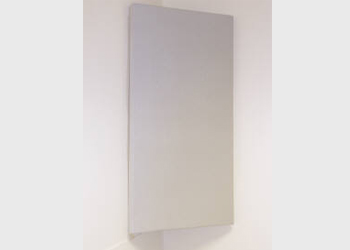 This is due to the design of the panels that incorporate a cavity in the corner behind each panel. The panels are 610mm wide by 1219mm high and contain a 100mm of high quality fire resistant acoustic foam. This is fixed to 6mm of high density fibreboard to give stability and also help with low end absorption. The panel is then covered in an open weave fabric the same as our SoundTrap Panels for walls to give a more aesthetic look.
The fabric is an eco-friendly, soft but durable linen and conforms to BS EN 1021-1 1994 (cigarette) and BS EN 1021-2 1994 (match) which meet the requirements of Schedule 1, Part 1, of the Furniture and Furnishings (Fire)(Safety) Regulations, S.I. 1324 of 1988 (Amended 1989)(Amended 1993) for added peace of mind. The combination of the professional grade sound absorbing foam, the bass absorbing HDF, the space behind the panel and the durable but great looking acoustic fabric present an acoustic panel that must be one of the best performing and best looking sound absorbing panels available.
For performance the panel has a high NRC and sound absorption at 50Hz is 0.76. Usually when you get performance and build quality from a panel like these Corner Sound Trap Panels, the cost can be extremely high. However with Advanced Acoustics this certainly is NOT the case! Most dedicated listening rooms are not custom built. This can cause a lot of problems such as standing waves, a long reverberation time, low end build up, extreme room modes, reflections and echoes. Corner Sound Trap Panels help to combat all those problems mentioned above. The difference these panels can make to any room has to be heard to be believed. The end result will be a room that works with you not against you.