Independent Wall Lining Soundproofing System using Soundblocker Quilt SBQ2

Product Details
Size
Supplied on a roll, 5m x 0.6m or 5m x 1.2m
Independent stud wall soundproofing system with Soundblocker Quilt SBQ2 to soundproof walls and party walls stocked and supplied by
Sound Service (Oxford) Ltd.
OVERVIEW
SoundBlocker Quilt is a superior cavity infill when constructing a soundproofed wall and can be used comply with Part E of the Building Regulations for the control of noise through masonry constructed separating walls.
Key Benefits
Minimum overall footprint of  82.5mm
Thinner and more efficient than normal mineral wool
High Acoustic Attenuation
Available in two widths on a 5m roll
TESTIMONIAL
'We are extremely happy with the results. I decided to trust your recommendations and I am extremely happy with the outcome which has virtually cut out all noise. Although more expensive than normal mineral wool soundproof products I would say it is far better value for money judging by the job it has done. It has been an absolute success.'
Many thanks                                                                                                                                                                                         G Carter
 
Soundblocker Quilt Acoustic Performance for stud clad wall
RwdB
RwdB + Ctr
58
50
Part E Requirements
New Build
Refurbishment
DnT,w + Ctr dB
DnT,w + Ctr dB
45
43
TYPICAL APPLICATIONS
Ideal for stud and masonry wall acoustic upgrades, change of use or new build constructions when a higher degree of  sound insulation is required.  Can be used to improve the soundproofing of stud walls separating bedrooms or existing party walls of masonry construction by adding a stud liner infilled with SoundBlocker Quilt SBQ2 and clad with 30mm of acoustic plasterboard decoupled with resilient bars for best results.
Can also be used to address flanking noise on walls that have failed a Part E pre-completion sound test.
Helps meet the thermal requirements of external walls when used as part of a stud lining system, due to high performance thermal properties.
Although the images on this page show steel studs being used, timber studs are equally acceptable although not quite as acoustically efficient as steel stud as the test results show.
 
Technical Data
Application:
Separating Wall
Mass per Unit:
76.1kg / m2
Footprint Width:
82.5mm
Fire Protection:
N/A
Certification:
Sound Reduction index to BS EN ISO 140-3: 1995. Rating according to BS EN ISO 717-1: 1997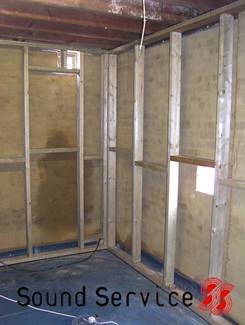 To achieve the best acoustic results when using a stud system the SoundBlocker Quilt SBQ2 should be used with resilient bars isolating the acoustic plasterboard the studwork.
The cladding should always be the higher density acoustic plasterboard installed as a double thickness.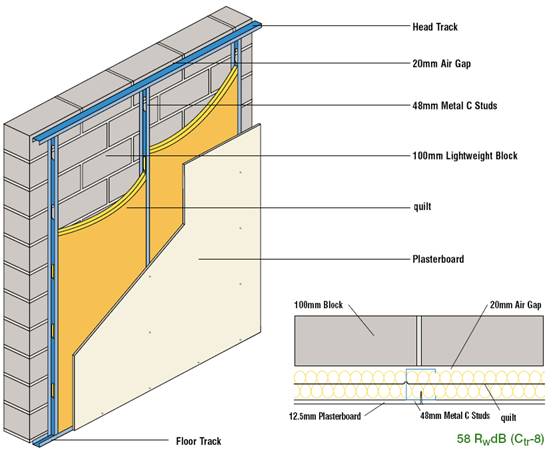 Installation Data:
100mm Lightweight Blocks
25mm Cavity between wall and stud
48mm Metal C Studs installed with 600mm centres.  Timber stud can also be used but not as efficient as metal stud.
52mm Soundblocker Quilt installed into cavity between studs
16mm Resilient Bars flexible fixing for Acoustic Plasterboard
2 thicknesses 2.4m x 15mm Acoustic Plasterboard (screwed to bars)
SoundBlocker Quilt Information
SoundBlocker Quilt is produced using 25mm recycled sheep's wool on either side of a 2Kg sound blocking membrane.  It is far better than acoustic mineral wool and up to 4 times more efficient than a normal mineral wool infill.  The performance of SoundBlocker Quilt exceeds the requirements as detailed in the Document E Resistance to the Passage of Sound for those looking for a superior performance when upgrading the soundproofing of an existing party wall.
SoundBlocker Quilt can upgrade a 12.5mm clad stud partition by up to 16dB!
A Greener Solution.
The sound absorbing element of this product is 60% produced using recycled sheep's wool combined with other recycled and recyclable materials.  So SoundBlocker Quilt has got to be one of the most environmentally friendly acoustic insulation materials used for infilling the cavities of stud walls.   This product does not use for the production or finished product CFC's, HCFC's or any gases that could otherwise damge the environment.
Size: 6m x 0.6m or 6m x 1.2m
(R Value): 1.25 m2K/W.