DESCRIPTION
Designed as a vibration isolator to decouple stud walls and floors the product comprises an EPDM closed cell resilient rubber supplied in rolls that are self-adhesive for easy application.  Due to its formulation the tape is resistant to chemical attack, will not soak up water and is long lasting.
The tape is produced in black 5 or 10mm thick in 10m rolls in widths of 25mm, 50mm, 75mm and 100mm.
FOR DECOUPLING FLOORS & WALLS
If applying timber stud as part of soundproofing a wall it is advised the stud is decoupled from the wall using this resilient foam tape.  Likewise, when constructing an independent stud wall, resilient foam tape can be used to decouple the sole plate, top plate and side plates for maximum soundproofing performance.  Likewise, floors can be decoupled from joists or using battens as shown in the detail below to reduce impact noise affecting those in rooms beneath.
Using the acoustic foam tape in this way isolates structures making them acoustically more efficient and reduces the transfer of structure borne sound, flanking noise and vibration.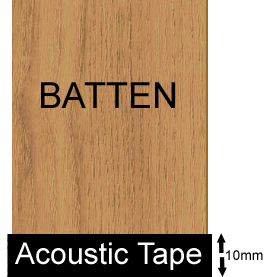 This method of decoupling stud when soundproofing a wall would still require the use of  Resilient Bars to give a more beneficial reduction in noise transfer and improved sound proofing of the wall.  Using our resilient bars will more efficiently help reduce bass and low frequency noise.
NOTE: Resilient foam tape will only help reduce airborne and impact noise when properly used in conjunction with other noise control products!