Product Details
Size
System has various product sizes. Please see price list
10mm recycled Acousticel R10 soundproofing for timber joisted floors when used beneath 18mm QuietBoard to create a soundproofed floating floor
OVERVIEW
Acousticel R10 is a recycled rubber resilient insulation for isolating floating floors from the base floor.  Best used with high density QuietBoard acoustic flooring it is essential for use in bringing floors into compliance with Part E or looking for the best soundproofing solution for floors.
Key Benefits
Produced from recycled rubber
Easy installation
Floating floor only 31mm total thickness
Compliant with PART E
Best solution to reduce impact and airborne noise through floors.
TESTIMONIAL
" I am exceptionally pleased with the R10 system.  I have been using the R10 system for many years in all my flat conversion projects because it always gives far better results when tested and I have never had a test failure. Acousticel R10 has been a reliable and and effective system for us over the years. We highley recommend it as an isolated flooring system."                                                                                                                   E. Harris Building & Contracting
DESCRIPTION
Acousticel R10 is produced using black recycled vehicle tyres bonded to a tough carrier layer and supplied in easy to carry rolls.

AIRBORNE
 
Sound Reduction Performance
New Build
Refurbishment
DnT,w + Ctr 52dB
DnT,w + Ctr 48dB
Part E Acoustic Requirement
New Build
Refurbishment
Min DnT,w + Ctr 45dB
Min DnT,w + Ctr 43dB
IMPACT
 
Sound Reduction Performance
New Build
Refurbishment
LnT,w 55dB
LnT,w 52dB
Part E Acoustic Requirement
New Build
Refurbishment
Max LnT,w 61dB
Max LnT,w 64dB
COMPONENTS AND FIXING DATA TO FULLY SOUNDPROOF A TIMBER JOISTED FLOOR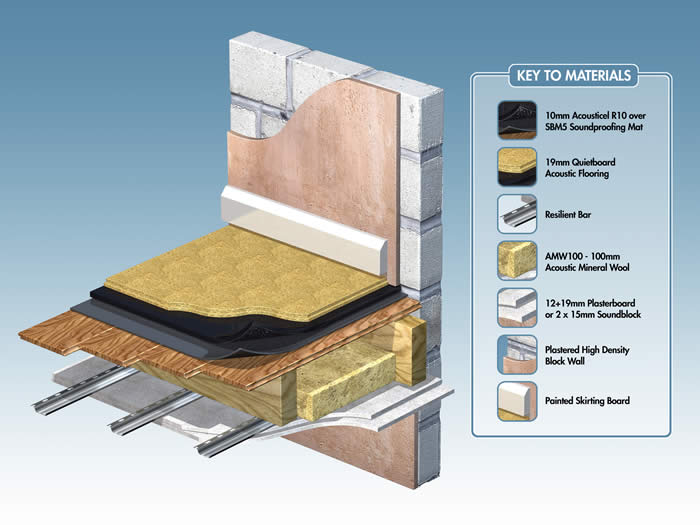 THE COMPONENTS IN MORE DETAIL
Resilient Bars
Resilient Bars are lengths of thin, angled, galvanised steel designed to be a flexible link between the plasterboard ceiling and underside of the joists.  The unique design of the bars when fitted, has a very thin, flexible link between the top of the ceiling and underside of joist that along with the R10 resilient layer isolating the floor, effectively controls and reduces impact noise from footfalls and furniture movement from the floor above.
Acoustic Mineral Wool
AMW type acoustic mineral wool is supplied to a density that gives the best sound absorbing performance when tested by us.  It is not true that the higher the density the better the soundproofing becomes and can make it worse, particularly if it is packed in tight.  A loose fit is always better.  AMW should always be used along with R10 and other acoustic products correctly installed as part of any upgrade to improve the soundproofing of a floor to obtain best results.  However, for even better results, our SoundBlocker Quilt can be used instead.
Acoustic Sealant
Acoustic Sealant is supplied in bigger than normal cartridges and applied with the aid of a mastic or skeleton gun.  The sealant is white, intumescent so fire resistant and despite its high density will always remain flexible which is why it is an essential component in the soundproofing of any timber joisted floor system.
Soundproofing Mat – OPTIONAL
The SBM5 soundproofing mat is a high density 2mm thick mat that adds mass to floorboards and also helps seal the joints.  Using this will add 1-2dB to the insulation value of a soundproofed floor so well worth using along with R10.  It is supplied in a sheet size of 1200 x 1800mm and usually delivered in rolls of three mats which can be quite heavy so assistance is usually required when handling.
R10
As mentioned earlier, Acousticel R10 is a black resilient recycled rubber mat supplied in rolls 5m x 1m x 10mm thick.  This is what is used to create the floating floor and effectively, decouples the floor which for best results should be QuietBoard and reduces the impact noise which would otherwise be transferred through to rooms beneath.
QuietBoard
QuietBoard is produced using recycled wood chips bonded with cement to create a high density, tongue and groove 18mm thick acoustic floorboard which is far denser than normal floorboards.  It is also waterproof, non-toxic and resistant to fire and due to its weight, can be used as the base floor screwed to the top of the joists as well as the floating floor on top of the resilient R10.